Student Satisfaction Survey
We want to hear from you.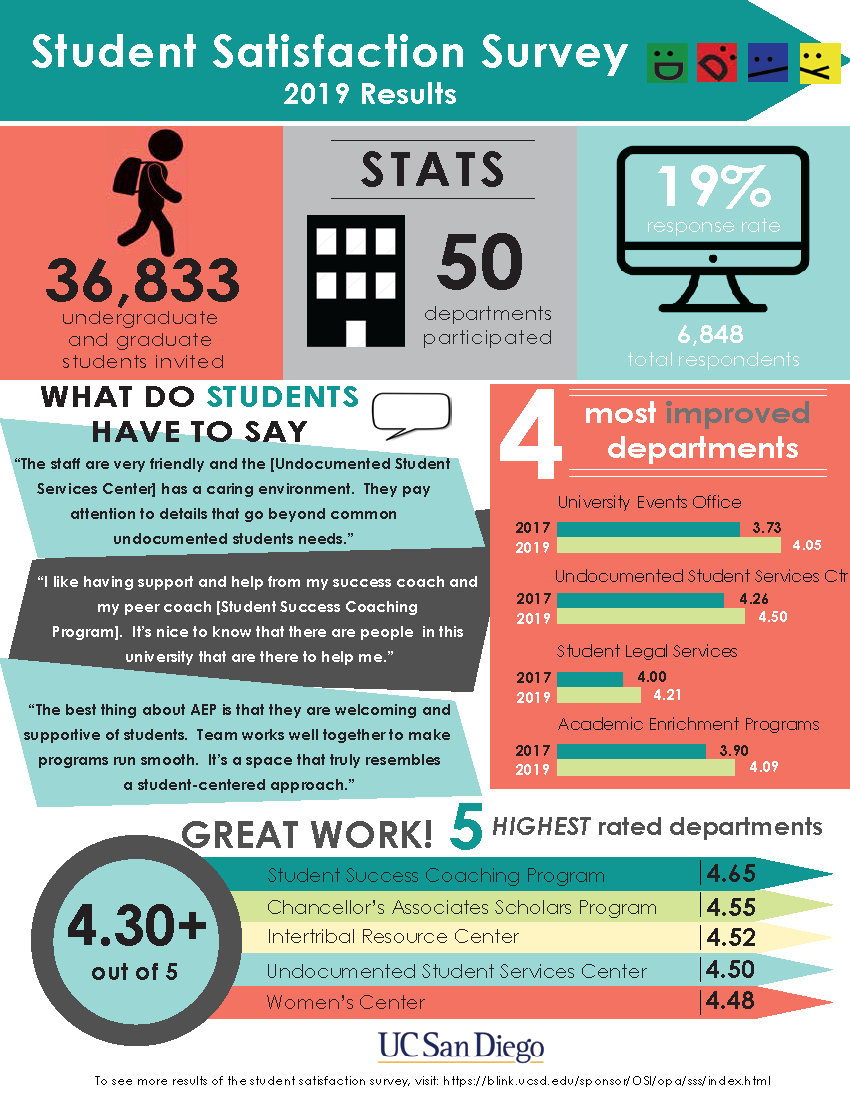 The biennial Student Satisfaction Survey has been used at UC San Diego since 1995, originally to provide key metrics to inform Balanced Scorecards for performance management in student business units in Business Affairs.
Today, the survey includes 50 departments and units across 5 Vice Chancellor areas and is used by leaders to specifically understand the needs of their student customers.
By measuring and taking action on customer satisfaction feedback from students, departments are supporting the UC San Diego Strategic Plan of enhancing the student experience and creating an agile and sustainable infrastructure by ensuring dedication to a people and service oriented culture. 
Download the Student Satisfaction Survey Infographic (PDF).
2019 Top Level Results
 Top 5 Highest Rated Areas (4.30+ overall satisfaction mean score):
Student Success Coaching Program (4.65)
Chancellor's Associates Scholars Program (4.55)
Intertribal Resource Center (4.52)
Undocumented Student Services (4.50)
Women's Center (4.48)
 Top 5 Most Improved Areas:
| Department | 2017 | 2019 |
| --- | --- | --- |
| University Events Office | 3.73 | 4.05 |
| Undocumented Student Services Center | 4.26 | 4.50 |
| Student Legal Services | 4.00 | 4.21 |
| Academic Enrichment Programs | 3.90 | 4.09 |
| Guardian Newspaper | 3.75 | 3.94 |
 Student Quotes:
"The staff are very friendly and the [Undocumented Student Services Center] has a caring environment. They pay
attention to details that go beyond common undocumented students needs."
"I like having support and help from my success coach and my peer coach [Student Success Coaching Program]. It's nice to know that there are people in this university that are there to help me."
"The best thing about AEP is that they are welcoming and supportive of students. Team works well together to make programs run smooth. It's a space that truly resembles a student-centered approach."