Staff@Work
™

: General Information

The purpose of the Staff@Work™ Survey is to understand how you feel about working at the University of California, San Diego, and about a variety of specific topics concerning your work setting. It measures department and leadership performance from the employee's perspective and provides valuable data for improving the work environment.  The survey is conducted annually and will take approximately 10 to 15 minutes to complete.

Survey extended through September 23rd!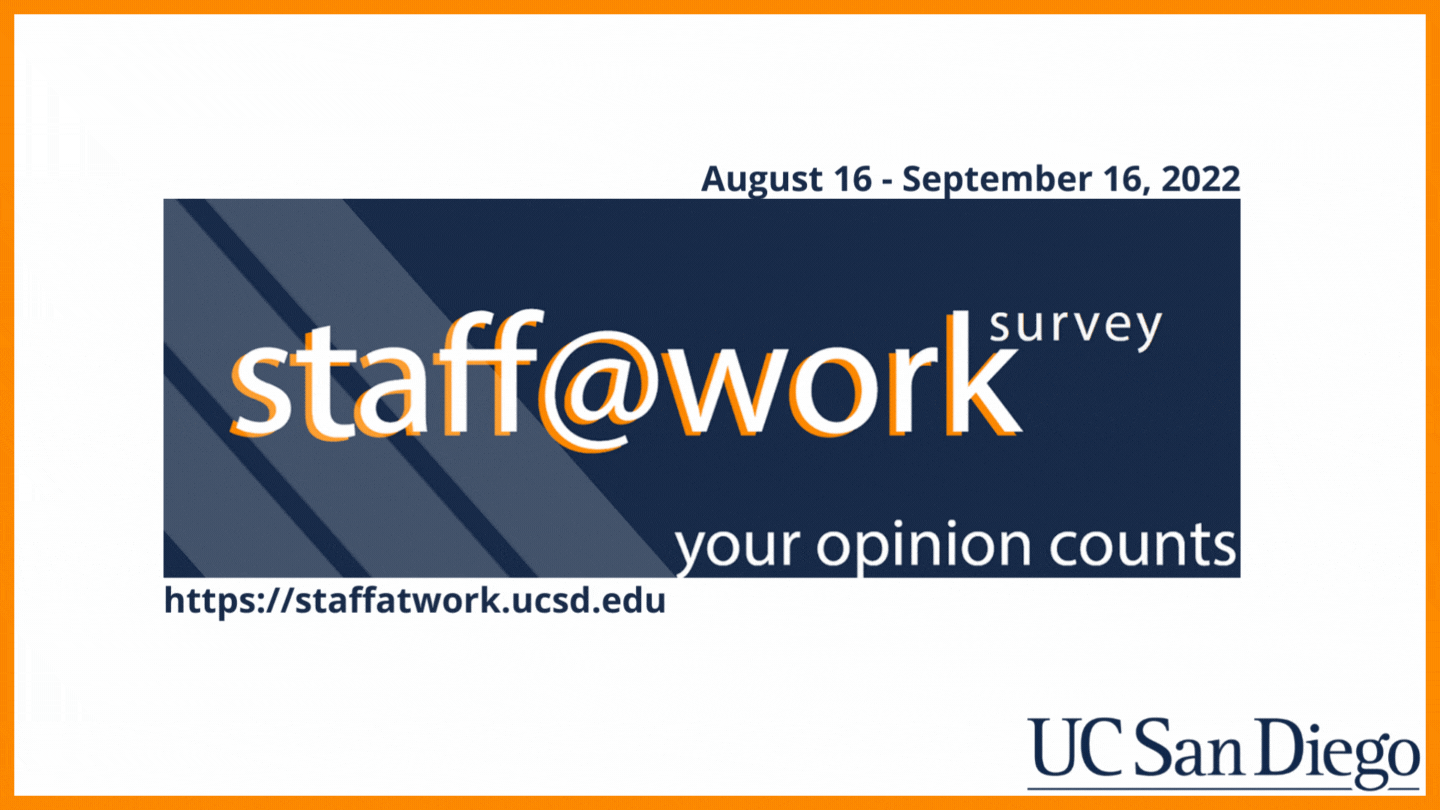 Gift

As a token of our appreciation for your time, you can select your choice of one of the following UC San Diego logo gift items: mug, towel, or lunch bag.  Gifts may be redeemed between August 16 and September 30, 2022 from the Bookstore.  Selection is limited to stock on hand and while supplies last.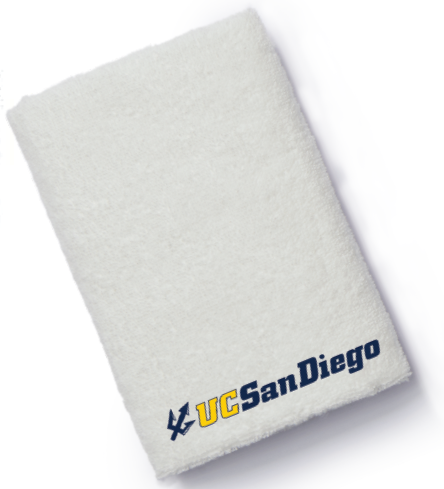 After you submit the survey, click on the link to view your gift voucher and unique barcode. 
Save your gift voucher and barcode number to redeem your gift.  If you would like to send one representative from your department to redeem the gifts, please have everyone's gift voucher with barcode ready to provide to Customer Service rep at the Bookstore.
Participation
The Staff@Work™ survey is important, and there is a strong expectation that staff will participate. All staff are invited to take the survey regardless of their interest or disinterest in participating (unless hired immediately before the survey is distributed). Your feelings about your work environment can be central to the performance of the department, and higher rates of participation help to ensure that we are collecting the most valid data.  If you have a conflicting priority or some other reason for not completing the survey, please consider discussing it with your survey administrator.  See administrator list below.
The units participating are Academic Affairs, Advancement, Chancellor's Unit, Chief Financial Officer, Equity, Diversity, and Inclusion, Health Sciences, Marine Sciences, Resource Management and Planning, Research Affairs, and Student Affairs.
Starting in 2015, other universities began participating in the Staff@Work™ Survey. This means your responses not only positively impact UC San Diego's efforts to enhance the workplace climate, but also contribute to an expanding benchmarking study which is benefiting higher education as a whole. 
Taking the Survey 
Eligibility
Employee lists for most departments were issued as of July 31, 2022. If you changed departments on or before this date, you should respond to the survey items for your new department. If you changed departments after that date, you should respond for your old department.
One of the most important reasons for doing whole-population survey is to not only give a snapshot of respondent's attitudes, but to give every staff member an opportunity to add their voice.  It's important that we reach out to all staff.  Please contact your survey administrator below regarding your eligibility or if you did not receive an invitation to the survey.
2022 Schedule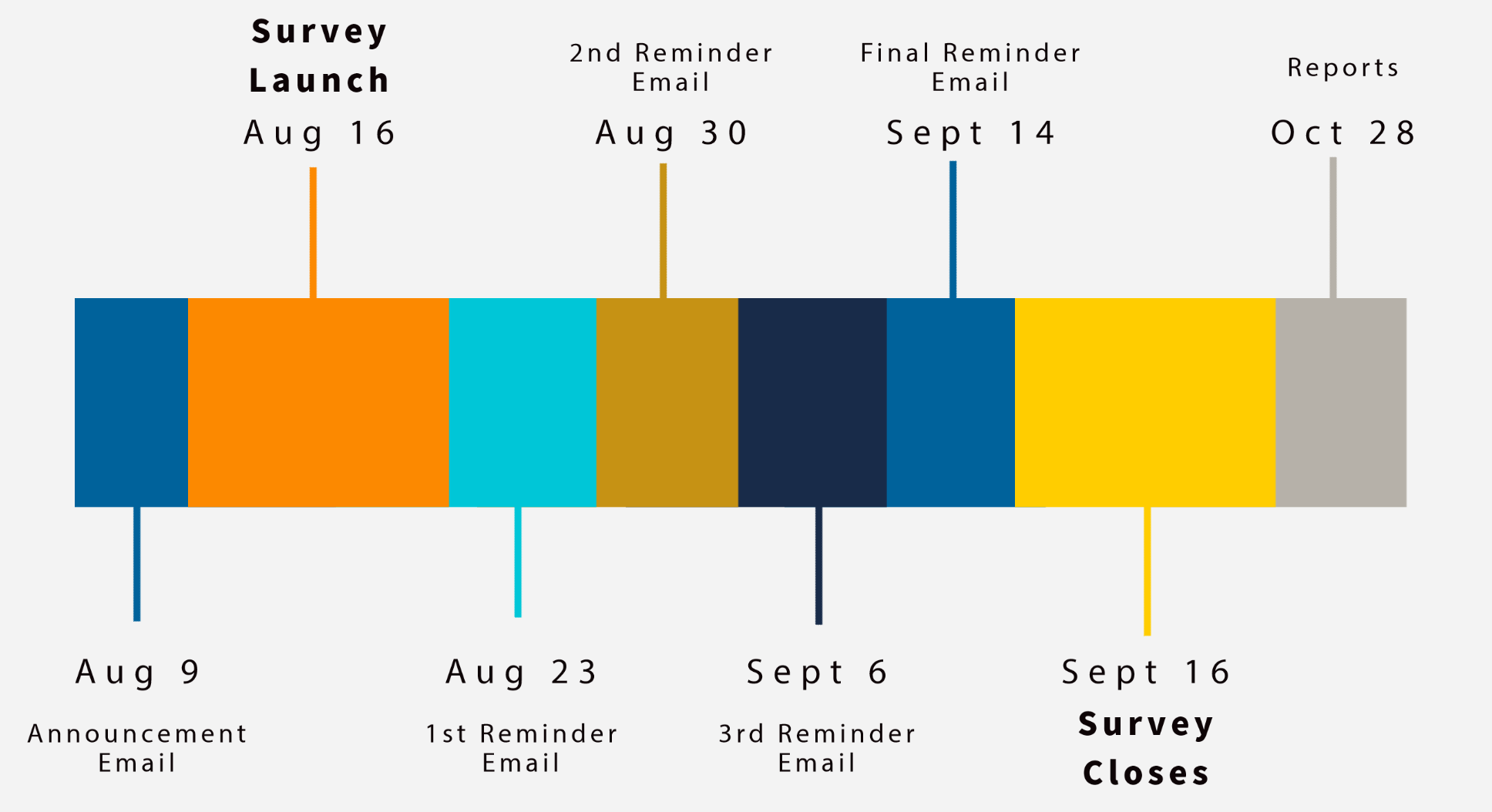 Open-ended/verbatim Questions

The comments that you provide are ANONYMOUS.  However, you are urged to be cautious in providing information that can potentially reveal your identity (e.g. I am an Asian female who just passed my probation in the dept.).
Finishing the Survey
If you cannot finish the survey all at once, you can return to it at a later time. Click the Finish Later button. Your responses will be saved from where you left off. Be sure to keep your original email to re-enter your survey. If you delete this email, you cannot be sent another one.
Once you click Submit Survey, your survey has been submitted and you cannot return to make any changes.
The last day to participate in the survey is Friday, September 23, 2022 (11:59 PM).
Protecting your Privacy

The Staff@Work™ survey is an official UC San Diego survey.  Your personal information, limited to your name and email address, is used strictly for sending the survey invitation and reminder messages. Such information is only accessible by survey administration staff.
Responses to the survey are ANONYMOUS.  Responses will be summarized in one report for each department. Individuals will not be identified and only aggregated data will be reported.
Furthermore, to do our best to ensure survey responses are anonymous, we have done the following:
Pre-established "blind lists" of email addresses, grouped by reporting area that are never directly visible by administrators.
Randomized the distribution of ResponseIDs, eliminating the possibility that a specific user's response could be identified based upon survey or alphabetical order.
Ensured that no respondent IP addresses, email addresses, or other identity-related information is logged or stored (i.e., no cookies.)
Ensured that outside of the emailed invitation itself, no record exists correlating a specific user with a specific response.
Ensured that a secure SSL certificate is utilized for all online survey activity, preventing others from "listening in" on the survey responses.
Ensured that only invited recipients can take the survey. By utilizing a uniquely generated passphrase per ResponseID, the emailed link to each respondent cannot be modified in an attempt to respond for others.
Any identifiable information that is obtained in connection with this survey will remain anonymous.  Your privacy is protected according to the University of California privacy and security policies. This information will only be disclosed when required by law.
If you have further questions regarding anonymity, please contact sawsurvey@ucsd.edu.
LGBTQIA Terminology



For a comprehensive list of terms related to both the LGBTQIA community, please visit http://lgbt.ucsd.edu/education/terminology.html or https://lgbtqia.ucdavis.edu/educated/glossary.
Definition of "Department"



DEPARTMENT may be defined differently for each reporting unit. Clicking on the words in the survey questions will bring up information on how the terms are defined for your unit. 
Accessibility
In 2019 and 2021, Tritonlytics™ completed an overhaul of the three major campus-wide surveys (CSS, SSS, and S@W) to be WCAG (Web Content Accessibility Guidelines) compliant. Although not a requirement to do so, we have enhanced our surveys to be fully accessible, removing any barriers that are preventing users with disabilities from accessing and interacting with our surveys (examples - color and clarity contrasts for color blindness or sight limitations, seizure safety, text alternatives, adaptable content, keyboard free navigation for physical disabilities, and more). In addition, we run SiteImprove to ensure our survey websites are ADA-compliant.
If you are using screen-reading software (e.g., JAWS), please use table navigation. You are also encouraged to email the UC San Diego Office for Students with Disabilities(osd@ucsd.edu) that provides assistive technology.  We recommend that you use a computer or laptop device to take the survey.  The questions may not be displayed properly on a mobile phone.
Survey Results
Each department will share the survey results with its staff - both what seems to be working well and what appears to need improvement. Survey results will also be posted on this website.
Statistical Reports 
The results of the survey will be available for departments/units providing at least 5 respondents. Unit responses will be further summarized at the VC level and then ultimately at the campus-wide level. In reviewing results, we will see what we do well, what things are improving, and what needs extra attention.
Divisions, departments, programs, and units may review their individual survey results and may address areas identified as needing attention that are unique to that unit. Those areas that need special attention are prioritized, and a plan for making improvements is developed for the next fiscal year. Departments participate by setting performance goals and developing action plans for achieving the goals. Find examples of past actions based on survey outcomes.
Verbatim Comments 
The verbatim comments provide valuable insight into the thoughts and feelings of staff.  Comments are reported by group; if there are fewer than 5 respondents to the survey in any group, comments are rolled up into the next group level to maintain a higher level of anonymity.  Survey administrators will receive the comments in themes only.
Raw verbatim comments will not be shared with anyone except with Human Resources and Equity, Diversity, & Inclusion, who are the guardians of this data. This process is to allow the institution to safeguard the comments and preserve the trust that employees have in providing candor. If senior leaders want to see the actual comments, they will need to make a request directly to HR Labor Relations.    
Survey Help
For assistance, please contact your survey administrator:

Contact sawsurvey@ucsd.edu for help or questions about the survey.